Writer/Director FINN TAYLOR
Interview by Peter Castro, written by Nick Leshi.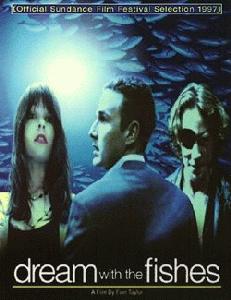 "If you have a personal story to tell and you really want to see it come out (right), you pretty much need to direct it yourself." Finn Taylor speaks from experience. The young writer was disappointed with the changes made to his first screenplay PONTIAC MOON. The lack of creative control on the project, which starred Ted Danson, encouraged the young writer to demand the director's chair for his next endeavor, the quirky DREAM WITH THE FISHES, ensuring that his personal vision would not be compromised when it appeared on the screen. Written and directed by Taylor, DREAM WITH THE FISHES tells the story of Nick (played by Brad Hunt) and his eccentric friend Terry (played by David Arquette, one of the stars of the SCREAM franchise) who embark on a wild road trip to fulfill their fantasies.

"It got me a lot of work," Taylor says of PONTIAC MOON. "On a personal level, it was a hard lesson learned...If you have a personal story to tell, giving it over to a big studio is not the way to go...It's probably going to become something completely different from what you wrote. So that's kind of what inspired me to direct DREAM WITH THE FISHES."

"I did have the opportunity to be there (on the set of PONTIAC MOON) to try to do rewrites," he continues. "And I got to argue my points, but I'd win one out of twenty battles." DREAM WITH THE FISHES offered him much more creative freedom, enabling him to select shooting locations and choose the cast of actors for his story.

"I hired Joseph Middleton to be casting director," Taylor says. "He did a great job. He got a lot of big name actors really interested. And he also brought in unknowns...He opened my eyes to an actor (Brad Hunt) who was kind of an unknown. Since I was doing the film independently, I had the freedom to choose who I thought was the best actor, not necessarily the biggest name...Brad Hunt by far was the best one for the role. It turned out to be a great choice."

Taylor was pleased to get David Arquette to sign up for his film. "When I met David in person," he explains, "I knew right away he was the right person for the role, not simply because of what he had done in acting, but because of who he was as a person. (He has) a natural vulnerability and 'squirminess' about himself (that fit the character). He was very passionate about it. He was just right."

Finn Taylor believes that independent films like DREAM WITH THE FISHES fill a void and offer audiences something they crave and find lacking in bigger-budgeted Hollywood fare. Audiences, he feels, are "very rarely surprised by the plot of a film nowadays." Independent films can take greater chances with more unconventional storylines, giving viewers more pleasant surprises than the cookie-cutter blockbusters dished out by the major studios. "There is a void that has been created that people are hungering for us to fill," Taylor says. He has a couple of other independent films lined up in the horizon, but for now he seems happy to finally present his unique creative vision on the screen for all to see.

Copyright © 1999 Nick Leshi, all rights reserved. Originally appeared in Video Street Date Magazine. Reprinted with permission.

Click here to visit KIK'S INTERVIEWS PAGE
Let me know what you think about my page. Send mail to Nick by clicking here.
Web
Absolute Classes
Absolute Write
Sponsored links

Make a Real Living as a Freelance Writer!
How to find a book publisher