Interview With P.J. McIlvaine
Interview by Ken D. Webber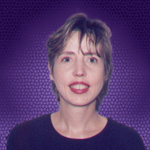 A powerhouse of ideas, P.J. McIlvaine has written GLORIE, JACKSON'S SONG, KEEPER OF THE FLAME, THE 54th CHROMOSOME, PARADISE BAY, FRENCH TWIST, COOKIE PHILLIPS - JUNIOR P.I., and SEX, VOODOO AND THE BLIND MAN. Now her latest screenplay, MY HORRIBLE YEAR, is in pre-production with Showtime and will become Eric Stoltz's directorial debut! Eric will act in it, as will Mimi Rogers and Karen Black. Her star is indeed rising!
Your screenplay "Annus Horribilis" has been changed to "My Horrible Year" and is now in pre-production. How did you snag the deal? Was it something you made from query letters, an agent, Hollywood schmoozing? What do you believe is the best way to catch an ear and eye in Hollywood?

This deal was made through the auspices of Susan Hart, my agent (but at that time, she was manager). Susan and I first met through a screenwriting message board back in late 1996. She was too busy to read my work, but asked me to resubmit at the start of the new year. Well, come January 1, 1997, I sent her an e-mail reintroducing myself, reminded her of what she had said previously and submitted a couple of loglines. Soon after that Susan asked to see the scripts and quickly offered to represent me. Three months later ANNUS HORRIBILIS (now called MY HORRIBLE YEAR) was optioned by Millbrook Farms, which is Mimi Rogers production company. They, in turn, brought it to Showtime.

How to get Hollywood's attention, hmm?? Show up nude at Mike Ovitz's house? That's a tough question. Ultimately, I think it takes persistence, patience, luck and talent. If you're in this to make a fast buck, forget it. There were many times in the process where I wanted to pack it all in, but you have to believe in yourself and hope that you connect with people who believe in you. I cannot say enough good things about my producers in this respect but I've heard enough horror stories to know that this isn't always so.

You are also a staff writer for Screentalk Magazine. You're an accomplished writer in print and now you're work is going to be seen on the silver screen. Where did the drive come from to get into writing? Have you always been a writer?

There is nothing else in the world I'd rather do than write and it's been that way since I was about seven or eight years old. I was raised by my foreign born grandparents and my grandmother believed in my talent and nurtured my dreams. Also, I'm a Capricorn. I'm always climbing upwards and setting new goals for myself.

As a screenwriter what strengths do you feel gives you the edge? What do you feel makes you better than the competition?

Not to toot my horn, but I'm consistent in coming up with challenging characters, sharp dialogue and interesting plots. In the early days, I used to think that every script that in Hollywood had to be so much better than mine. Bah. For a couple of months I was a reader for a big LA entertainment conglomerate which shall remain nameless and take it from me, 95% of what is out there is crap, and I read some scripts which had some big names attached to it. Remember, not every script that sells for obscene amounts of cash is necessarily good. It doesn't even mean that it'll ever get made!

What words would you like to say to the new breed of writers who are out there right now mining for digital gold?

I think the Internet is great for writers. However, it seems to me that screenwriting websites are all over the map, with many promising Hollywood access (you know the ones I'm talking about) for a fee. Have I been tempted to try them? Of course. However, I still feel that if you have a great script and can write a decent query letter, you can get it read. I haven't had trouble getting read---it's the selling part that's hard, and although I have an agent, I'm always on the lookout for leads.

What do you believe a great comedy script has to have to be a success? Is there anything that a writer would do differently or be aware of when writing comedy scripts as opposed to other genres?

Comedy is like pornography---what arouses one person laugh will leave another one cold. When I wrote ANNUS, I wasn't trying for funny. In fact, when I initially wrote it, I didn't think it was particularly humorous or even marketable. It just goes to show how little I know of what makes a script sell. I don't even think about marketability when I write. I write what pleases and interests me.

Every screenwriter has "their baby," that one script which to them brings happiness, even if it's never sold. Is there any screenplay that you've written that you consider "your baby" and what makes that one special?

If there's one script I consider my baby, it would have to be, hands down, my very first script, GLORIE. I wrote in the midst of a lot of emotional trauma and pain and much of it was autobiographical. My first draft was an opus, 200 pages plus. I made it my mission in life to get it in shape for the Nicholls Fellowship that year. Subsequently, it placed in the top ten percent of all entries and that encouraged me to continue screenwriting. I still get requests from prodcos about GLORIE and maybe 2000 will be the year it finds a home. It's a very special script that no less an authority than screenwriting guru Richard Walter favorably compared to the classic TO KILL A MOCKINGBIRD, one of all my time favorite movies.

I've noticed a trend in which screenwriters begin initially writing on experiences in life which are rich and full of realism, partly based upon their environment, and then they move out to the confines of Hollywood hoping to sell their work and their only influence for writing becomes the glitter and glam of the scene. For a writer, how healthy is this tradeoff? I know that a writer should be near their market but shouldn't they also remain connected to real world research so that they're in synch with the people? What is your opinion on this?

A problem with many of the scripts I've read is that many writers seem to think that vulgarity passes for an acceptable plot. I don't know if that's a sign of the times or the fact that they have no life experiences of their own in order to base a script. I'm out of the LA loop so I don't worry about box office trends. What's usually hot this week is stone cold next week. I don't write for a market; I write for me and I think that if you look at many recent box offices smashes such as THE SIXTH SENSE and GLADIATOR, you'll find that it was the writer's vision that ultimately seized the day.

What's your take on rewriting? Some screenwriters seem to feel that a great script should be rewritten over and over again until perfection is reached while others feel that the more you tamper with a script the more you risk destroying the original direction, flow, and feel. Which way do you go on this and how do you write your scripts? Do you follow a format or a method?

I don't follow any set rule or method when it comes to starting a script. Sometimes the idea will be with me for a long time before I sit my butt down in the computer chair; others, I'll get an idea on Friday and boom, Saturday night I'm already up to 20 pages. I don't rewrite my scripts to death (maybe that's why I haven't sold more!). I have a good, solid core group of fellow screenwriters who's judgment and advice I trust. They read my scripts and usually have a good sense of what works and what doesn't. It also helps to have an agent who pretty much loves whatever I write. She may have her favorites (like me), but she's supportive and encouraging. I've never sent Susan a script where she's come back and said, "Look, PJ, this is garbage." To me, spending years and years on a script until it's "perfect" is a waste of time and energy. No script is perfect, and once you sell a "perfect" script and subsequently get notes on it, you'll see what I mean.

When collecting ideas for your screenplays are you the type to remember things that people do and say and recreate the scene around the character or do you tend to create characters which are tailor-made to fit the scene?

I've done both. My daughters are a great source of inspiration and often, the things they say and do end up in my scripts. Other times, it's simply my imagination at work.

If you could hand pick your actors and actresses to fit your movies what are a few of the choices you would like to see for some of your characters? Who do you feel could do your work justice?

I wish I could pick all the actors I've dreamed about for my screenplays. I've written two scripts specifically for Gerard Depardieu. I have a romantic comedy which I think would be perfect for Bill Pullman and Sandra Bullock. I wrote another rom com with Kevin Costner and Susan Sarandon in mind. In 2001, I plan to write a script that's tailor made for Harvey Keitel. Does it help to envision the actor while writing a character? Sure it does.

Who else in the field of screenwriting do you think is doing great work?

I admire Frank Darabont; I loved THE GREEN MILE. What a great story! I adored Jane Campion's THE PIANO. I've watched that film at least six times and each time I still find something new to enjoy besides Harvey Keitel's assets. George Lucas is God.

Where will your work lead you? What to you would be an outstanding achievement?

Naturally, my immediate goals are to capitalize on the Showtime sale, sell more scripts and hopefully sell to a WGA Guild signatory. I'd like to break into features. I'm quite anxious to see how MY HORRIBLE YEAR turns out; I wonder how it will feel to see characters I created come to life. I'd love to be able to make a living full time at writing. In addition to screenplays, I'd like to write more novels. On a more personal level. I'd love to have another child. No matter what the future brings, though, of one thing you can be sure: I'll always be writing.

You can visit PJ's site at http://thelonewolf56.homestead.com/PJ1.html

Interviewer Ken D. Webber is the webmaster, screenwriter, and artist for Scripted Minds, an escript/ebook download site. You can visit his site and read more celebrity interviews at: http://www.scriptedminds.com.
Web
Absolute Classes
Absolute Write
Sponsored links

Make a Real Living as a Freelance Writer!
How to find a book publisher