Interview with Moreton Neal


Author of REMEMBERING BILL NEAL:

Favorite Recipes from a Life in Cooking


Published October 18, 2004 by the University of North Carolina Press
$22.95 hardcover, ISBN 0-8078-2913-7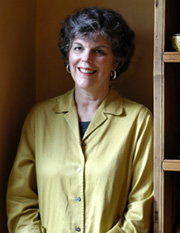 Photo by John Jones

A gifted chef, restaurateur, and writer working at a time when Americans were beginning to take a new interest in their culinary heritage, Bill Neal helped raise Southern food to national prominence. Well-thumbed copies of his cookbooks Bill Neal's Southern Cooking; Good Old Grits Cookbook; and Biscuits, Spoonbread, and Sweet Potato Pie grace the cookbook shelves of countless professional chefs and home cooks, and stand as culinary bibles. He was also a talented gardener, and penned the classic reference work Gardener's Latin.

But when Moreton Neal met her future husband and business partner in French class at

Duke University in 1967, Bill Neal was an eighteen-year-old from Groton, South Carolina whose

exposure to eating out was limited to fish camps and barbecue joints. It was Moreton's sociable Mississippi family that first introduced Bill to the pleasures of fine dining during their visits to her home over school vacations. As students, Bill and Moreton discovered that they had a common interest in cooking, and were soon whipping up dishes like Egg Foo Young and Date Nut Cake in Moreton's crudely equipped dormitory kitchen.

They married in their senior year, found jobs in local restaurants, catered their way through graduate school, started a family, and founded the landmark Chapel Hill restaurant La Résidence. Although they ended their marital and business partnership in 1982, their friendship survived. While Moreton continued to manage La Résidence, Bill opened the nearby restaurant Crook's Corner, wrote Bill Neal's Southern Cooking, and gained fame after Craig Claiborne of the New York Times and Phyllis Richmond of the Washington Post gave Crook's stellar reviews.

In REMEMBERING BILL NEAL: Favorite Recipes from a Life in Cooking (University of North Carolina Press, October 2004; $22.95 hardcover) Moreton Neal tells the story of Bill Neal's largely self-directed culinary education. Moreton has collected more than 150 recipes—mostly unpublished and several classic—from the celebrated and extensive number of dishes that Bill perfected at La Résidence, Crook's Corner, and at home.

Moreton, why did you write this book?

The present owners of La Résidence (the Chapel Hill restaurant Bill Neal and I started in 1976) called me a few years ago to let me know they were putting the restaurant on the market. I decided to retrieve the old recipe files, which were unused since I left the restaurant in the early nineties. These files held Bill Neal's and my recipes from the beginning of the restaurant in 1976 to the early eighties when Bill started Crook's Corner. My intention was just to rewrite the recipes in layman's terms and pass them on to our kids. David Perry, editor-in-chief of UNC Press, encouraged me to expand the book to its present form.

You and Bill went to Duke University, a far cry from a culinary school. Why did you go into the restaurant business?

We were idealists who graduated with teaching degrees and wanted to change the world. After a year of teaching, that particular goal didn't seem likely to happen. Bill went to graduate school at UNC and we began catering for his professors. We missed New Orleans food and dreamed of dining at a really good restaurant here in the Triangle area. With the encouragement of our friends and clients, most all of them francophiles, we opened the restaurant we envisioned.

Why would two Southerners choose to open a "French" restaurant?

I grew up in South Mississippi in a family that dined often in New Orleans. Galatoire's and Antoine's were my idea of good Southern restaurants. Bill was raised in North Carolina where eating out usually meant fish camps and barbecue joints. Back in the sixties, 'fine dining' in the South existed mostly at steak houses (with the exception of port cities such as Charleston). By the time we opened La Res, our favorite restaurants in this country were French (e.g., D.C.'s, Lyon d'Or or New York's La Cote Basque—we were willing to travel a long way to dine well), and after a couple of trips to France, we were besotted with all things French. For Bill, who grew up working on his grandfather's farm, the connection from the table to the land there was refreshing.

Remember, this was back when anything topped with a can of mushroom soup was the height of fine dining in most of the South.

Did La Res meet your expectations?

We had a very positive response. Craig Claiborne, then food editor of the New York Times, and Phyllis Richmond of the Washington Post gave us national exposure. La Res was a critical hit, but the 24/7 schedule of restaurant work was tough on family life—not for sissies!

The book includes recipes from Bill's second restaurant, Crook's Corner (also in Chapel Hill), and other simple recipes for home cooking…

Bill had written three well-received cookbooks and was working on a Southern vegetarian cookbook when he died. I had been urged to finish that book, but I just couldn't get excited about Southern food without pig parts! Years later, though, I realized there were several unpublished Crook's recipes that people often asked me about. And I had a personal book of old recipes Bill and I compiled before we began cooking professionally. There were also Bill's own favorites he cooked after he retired from restaurant work.

In putting together these recipes I began noticing trends. This introduced a new perspective to the book—a look at food and restaurant trends in Bill's lifetime, roughly the last half of the twentieth century.

It was Crook's Corner that eventually attracted more national attention, wasn't it?

Bill was on the cutting edge of the American regional trend in the eighties. This was when Alice Waters and Paul Prudhomme, among others, were bringing attention to regional food in this country and there was a new interest in using local ingredients. Bill wrote Bill Neal's Southern Cooking at the crest of this "new wave" and gave Southern American cooking a big boost. Most folks don't know this, but originally Crook's used mostly Mediterranean-style recipes. After the book's publication, its identity became Southern. It turned out that this kind of cooking filled a void in the restaurant world around here (Piedmont, N.C.) and all around the South. Bill always was a trendsetter.

How many of these recipes did you and Bill develop together? Did you collaborate on new dishes?

At La Résidence, Bill worked on main courses, and I focused on desserts and hors d'oeuvres. The Crook's Corner recipes in this book are all his, with contributions from the staff. "At Home" recipes are oldies-but-goodies from both our families and an eclectic mix of recipes we collected together from friends or favorite cookbook writers such as Simone Beck, Richard Olney, and Maida Heatter. Most of these were not original, but we added our own touches.

What are your favorite recipes in the book?

For quick-and-easy, you can't beat Chicken with 40 Cloves of Garlic, a Provence classic.

For a splurge in calories, I love the Gnocchi Verdi with 2 Sauces. For dessert, Chocolate Chess Pie is a crowd pleaser and surprisingly simple to make.

Are all these recipes new or have they appeared in another of Bill's cookbooks?

There are a few recipes that are repeated here from Southern Cooking; Good Old Grits; and Biscuits, Spoonbread and Sweet Potato Pie—including Shrimp and Grits, probably Bill's most famous and most requested recipe. I couldn't call this book "Favorites…" without that one and a few others such as Cabbage Pudding, Princess Pamela's Buttermilk Pie, and Creole Gumbo.

What do you see as current cooking trends in this country?

Fast and easy! Americans now work so much they don't have time to cook. Most of these recipes are geared toward the busy home cook. Another trend is the expectation of high quality (both in taste and in nutrients) in our meats and produce. A great vegetable doesn't need much fuss to make it taste good. Globalization has created a demand for, and a supply of, exotic ingredients and spices. There are recipes here from Italy, Africa, China, Mexico and other countries in addition to the expected Southern and French dishes associated with Bill's books and restaurants.

Who would enjoy this book?

People who knew Bill, people who enjoyed eating at Crook's Corner and La Résidence over the years, people who love to eat and cook good food, people who are interested in food trends of the past fifty years. There are many great restaurateurs in the South who were inspired by Bill. His story is about a visionary, really, the American dream—someone who made his dream come true in spite of naysayers. Lord knows, our parents weren't too thrilled about our choice to open a restaurant. "That's not what we sent you to Duke for!"

Bill Neal's Southern Cooking was not just a cookbook, but a scholarly look at 300 years of the South's culinary history. Is this book similar in terms of scholarship?

I could never compete with Bill as a scholar. REMEMBERING BILL NEAL is meant to be a cookbook for home cooks as well as a personal memoir. My commentary on food trends comes partly from experience eating all over the country, interviews over the years with chefs and cookbook writers on my radio show "Food Forum," and from research for a gourmet column I write. I just hope Bill would be flattered, not embarrassed, by the book.

Bill died at 41?

Yes, he died of HIV in 1991. In addition to the vegetarian cookbook, he was also working on Gardener's Latin at the time of his death. The wonderful people at Algonquin put the final touches on Gardener's Latin and published it after he died.

What was it about Bill that set him apart from all the other talented chefs of his generation?

Well, for one thing, there weren't very many chefs in that generation! Chefs in the South were usually African American or French, certainly not middle-class white males with a liberal arts education. There were no comprehensive cooking schools outside France as far as we knew. Bill was in the vanguard (which included Alice Waters, Paul Prudhomme, Jasper White, Mark Miller and others) of a new era. These folks redefined American cooking and made it accessible outside private homes.

The culinary scene has changed tremendously since Bill and I opened La Résidence in 1976. REMEMBERING BILL NEAL is one person's story, but also a microcosm of evolving food and cultural trends in the second half of the twentieth century—at least, that was my intention.

But Bill truly was a unique and unforgettable personality. I've interviewed hundreds of chefs and cookbook writers on my radio show and there's nobody quite like him. Combine the intellect of Paula Wolfert, the perfectionism of Thomas Keller, the flamboyance of Tony Bourdain, the wicked wit of the late Craig Claiborne with the passion of the late Julia Child. That would be my recipe for Bill Neal.

CLICK HERE to learn more about REMEMBERING BILL NEAL: FAVORITE RECIPES FROM A LIFE IN COOKING (University of North Carolina Press, Fall 2004).